Lake Underhill Path...
Linking Four City Parks in Orlando, FL
Close to downtown, the Lake Underhill Path is a paved, 3 mile trail that links four Orlando City Parks: Park of the Americas, Lake Underhill Park, Col. Joe Kittinger Park, and Orlando Festival Park. Along the way, bikers will see Orlando Executive Airport, a Vietnam era F-4 Phantom jet exhibit, a fitness trail along Lake Underhill, and a dog park. (Map and photos below.)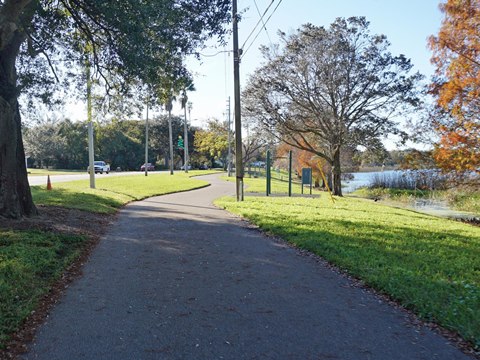 Location: Orange County
End Points: Park of the Americas to W. Colonial Drive (link to Cady Way Trail)
Mileage: 3 miles
Surface: Paved, 12 feet
Trailheads/Parking: Parking at Park of the Americas, Lake Underhill Park, Orlando Festival Park, Col. Joe Kittinger Park (See map)
Nearby Points of Interest: Orlando Executive Airport, City of Orlando
Bike Shops / Rentals:
Kyle's Bike Shop (Orlando)
Park of the Americas to Lake Underhill Park
Park of the Americas
The Park of the Americas trailhead is located along Lake Underhill Road about 1/2 mile west of SR436. The trailhead has parking, restrooms, picnic, playground, tot lot and a dog park. Circling Unity Lake is an additional half mile path for biking, walking, jogging, with benches, picnic pavilions and 5 fitness stations.
More about Park of the Americas .
Path to Lake Underhill Park
Leaving the park on Andes Ave, go under SR408 to Lake Underhill Road, cross Andes and follow the path westbound along the roadway. The only "hill" on the path is the overpass at the SR436 exit ramp. Approaching Lake Underhill Park, another ramp off SR408 feeds onto Conway Road - be very careful. Lake Underhill Park is on the right. Due to busy Lake Underhill Road and SR408 traffic, this is the noisiest section along the path.
Lake Underhill Park
The path here runs lakeside, along Lake Underhill Road. One of Orlando's most-used parks, a walking path closed to bicycles circles the lake on a pedestrian bridge. Stop at the fitness stations along the path, or watch the jet skiers from the boat ramp and dock. Parking, picnicking, benches and restrooms are available.
Lake Underhill Park to Kittinger Park
From Lake Underhill Park, the path runs to Anderson St., where it links to the Orlando Downtown Connector, part of the Orlando Downtown Loop. It then crosses Anderson St. (on-ramp to SR408) and goes under the SR408 expressway to South St. (off-ramp from SR408) - take care here and be alert for speeding cars. After crossing South St., go left and continue to S. Crystal Lake Drive, Kittinger Park is on the right.
Col. Joe Kittinger Park
Col. Joe Kittinger Park features the refurbished F-4D Phantom jet piloted by Kittinger in Vietnam. Honoring Col. Kittinger (1928-2022), the park includes the refurbished jet exhibit, playground, and parking, and includes a 1/4 mile loop walking path. Originally built in 1992, it was rehabilitated in 2011 and the jet installed in 2014.
Airplane enthusiasts will enjoy Kittinger Park. There's a speaker at the picnic pavilion that allows you to listen to the control tower as you watch private aircraft land and depart.
Kittinger Park to Orlando Festival Park
From Kittinger Park, the path turns northbound along Crystal Lake Road (which becomes Maguire Blvd. at Robinson St.), passing Orlando Executive Airport. Across Maguire Blvd. at E. Livingston St. is Orlando Festival Park, with parking, restrooms, picnicking, and fitness stations, plus a popular volleyball court and the Orlando Skate Park (fee-based). The park hosts many festivals and special events.
Orlando Festival Park to E. Colonial Dr.
Formerly the "Airport Gap" along the Orlando Downtown Loop, the path runs north from E. Livingston Street (Festival Park) to E. Colonial Drive (SR 50). At Colonial, the path has not been expanded or improved (yet), possibly due to utilities needing to be eventually moved. Hopefully, one day there will be a bridge to cross the busy road. After crossing E. Colonial Drive, continue 1/4 mile to Woodcock Road and the Cady Way Trail.