South Lake Trail... Scenic Central Florida Biking
The 13-mile South Lake Trail, centered in Clermont, FL, is a particularly scenic ride, with views along Lake Minneola and other lakes and sweeping vistas on the sand ridges. The trail connects with the West Orange Trail to create 36 miles of continuous Central Florida bike riding in Lake and Orange Counties. The trail will comprise a portion of the Florida Coast-to-Coast Trail when gaps are filled. (Detailed map and photos below.)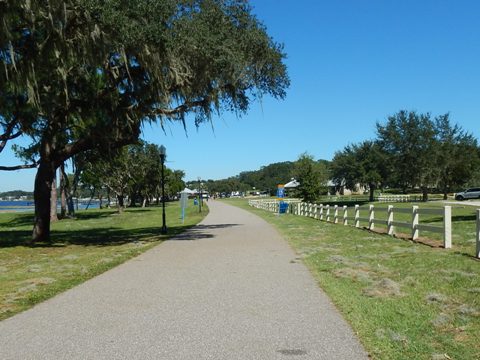 Location: Lake County (Clermont)
End Points: Groveland (Silver Eagle Rd.) to Clermont Waterfront Park to Killarney Station (West Orange Trail)
Mileage: 13 miles
Surface: Asphalt, 14'
Trailheads/Parking: Lake Hiawatha Preserve Trailhead, West Lake Minneola Trailhead, Clermont Waterfront Park, Minneola Park Trailhead, Killlarney Station (West Orange Trail) (See map)
Nearby Points of Interest: Florida Citrus Tower, Sugarloaf Mountain, Walt Disney World, Bok Tower Gardens
Silver Eagle Road to Lake Hiawatha Preserve Trailhead
In early 2015 a 3.5 mile trail extension was opened, running between Clermont and Groveland as part of construction closing gaps on the Florida Coast-to-Coast Trail. The extension along CR561 and 565A includes two bridges and the new Lake Hiawatha Preserve Trailhead (parking, restrooms, picnic, pier).
Minneola Trailhead to CR455
The eastern end of the trail runs along the central Florida sand ridge and sports the highest elevations of any rail-trail in the state. Featuring open vistas and some challenging hills on the sand ridges, this is a popular location for triathletes in training - the Hancock Extension, leading to the National Training Center, has been extended to the north and now totals 6.5 miles (updated: Feb. 2018). The ride can be strenuous, bring water and a power snack.